Preserving History at the Zash Country Boutique Hotel's Modern Interior
|
Have you visited the Zash Country Boutique Hotel? Well, if you haven't, allow us to give you a short but great peek of this hotel that combines history with modern design!
We know for a fact that whenever there are items or even structures with historical value, it is preserved or if there are alterations, it is limited to a minimal.
These days, modern design is the trend. That is why most homes and even hotels, have a modern look to give their guests the privilege of getting a good stay in their place.
But what if you end up in a hotel with a combination of historical fragments and modern design? That would be totally bizarre but once you see this hotel, you will appreciate this contrasting combo!
A lovely resort in Sicily named Country Zash Boutique Hotel will make its guests feel blissful and relaxed thru its enchanting interior. The hotel is from an old winery which had undergone different transformations turning it into a luxury vacation resort.
The interior reflects some historical fragments that were retained despite the contemporary design applied to the hotel's interior.
Aside from the old elements that you will see, you will also catch a glimpse of modern furniture. Aside from that, there are more surprising features of the hotel which will make you want to spend a night or two in it!
Let us now take a look at the Zash Country Boutique Hotel.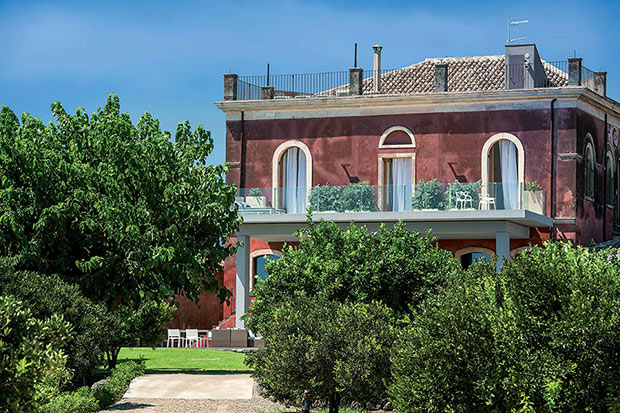 The exterior of the hotel has that traditional and historical look from roof tiles to peeling paints on the walls.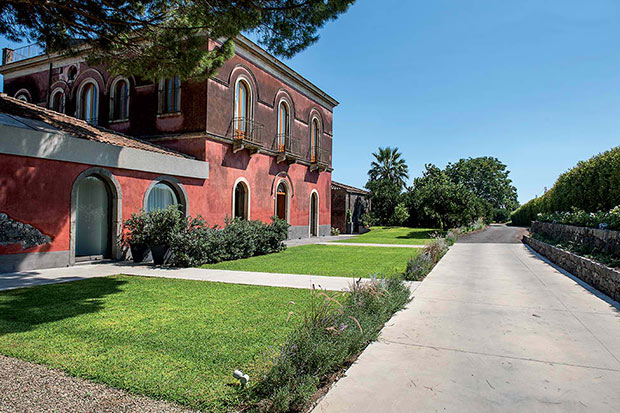 Wherever you look at the exterior, it appears like an old hotel. As a matter of fact, you might hesitate to get inside it for you might think that you will not get a comfy sleep inside.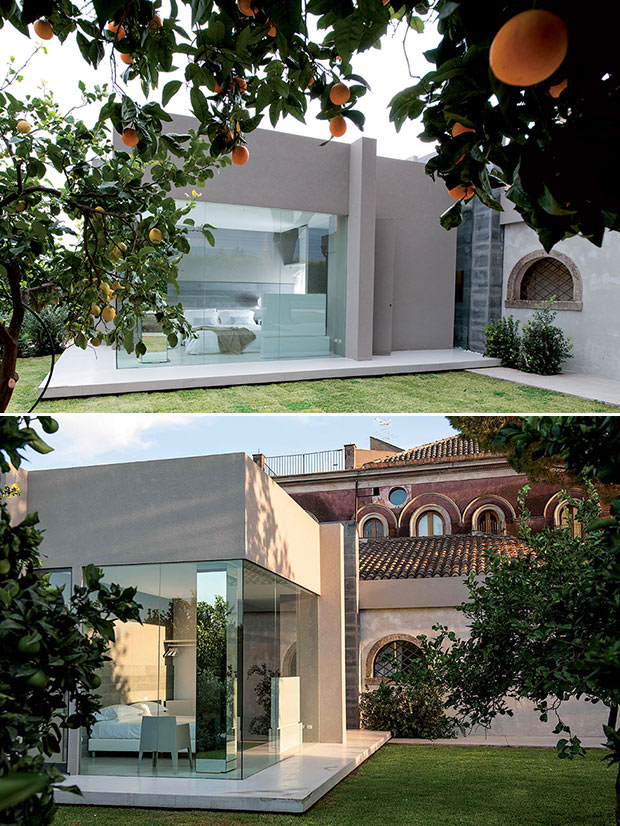 But once you see this bedroom enclosed of glass, you will surely change your mind in an instant!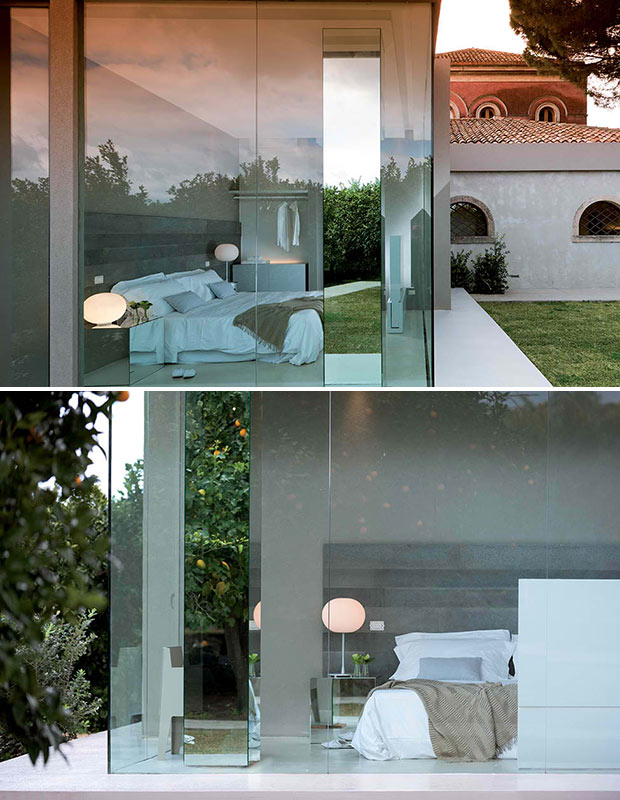 Isn't this a lovely bedroom? Aside from the glass walls that surround it, the interior has that contemporary design from wooden panels for the headboard to the neutral colors in it.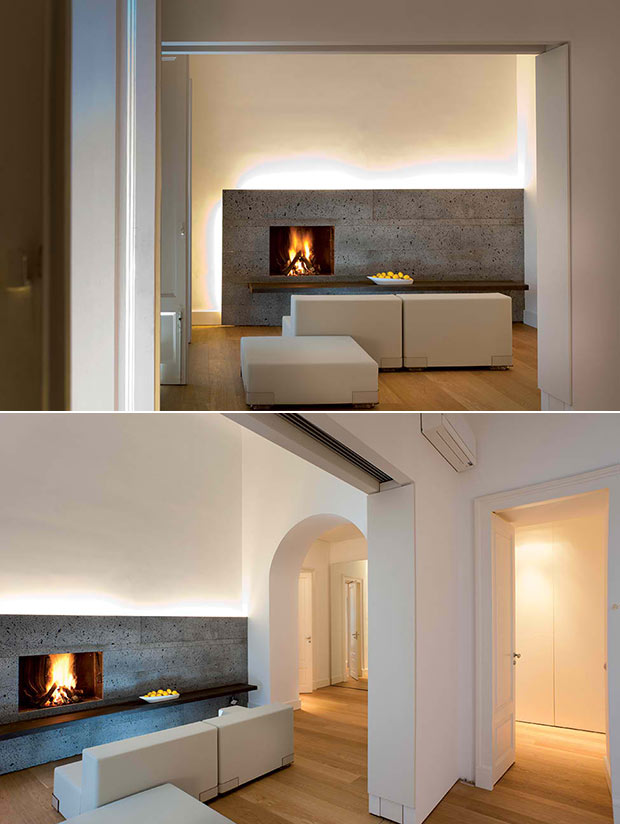 Now, take a look at this interior. I'm sure you will not expect to see this!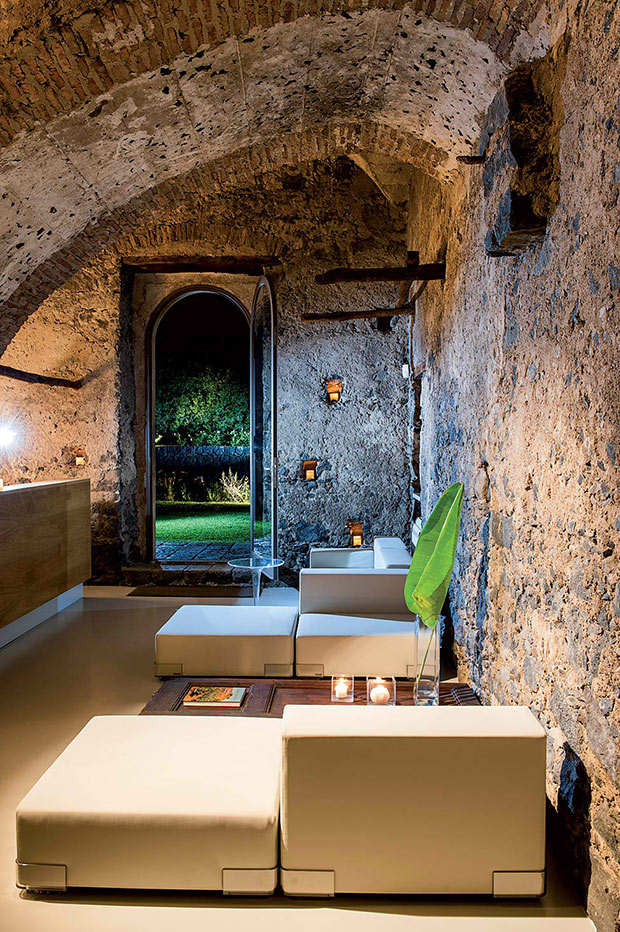 And I'm sure you also did not expect to see this too! The wall has exposed concrete and stones. And that is seen from the ceiling too!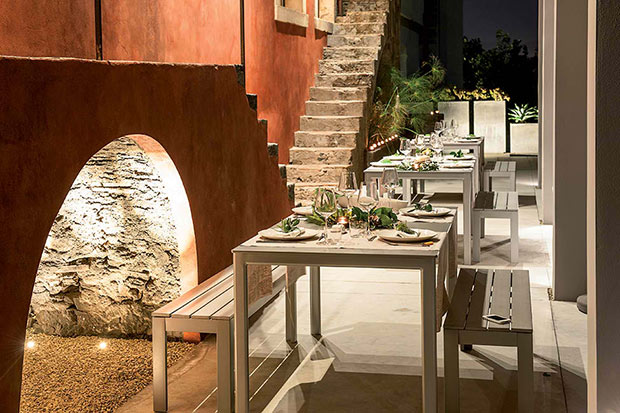 The old staircase with a hollow bottom which looks like designed for a fire pit was retained. It added more drama to the dining area.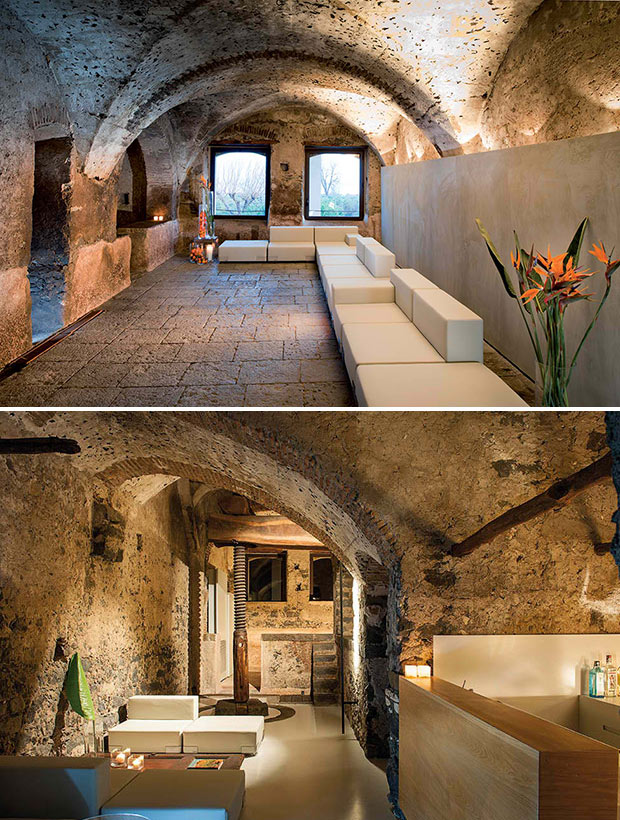 The ceiling has arcs everywhere like a dome-shaped ceiling and they are made of stone.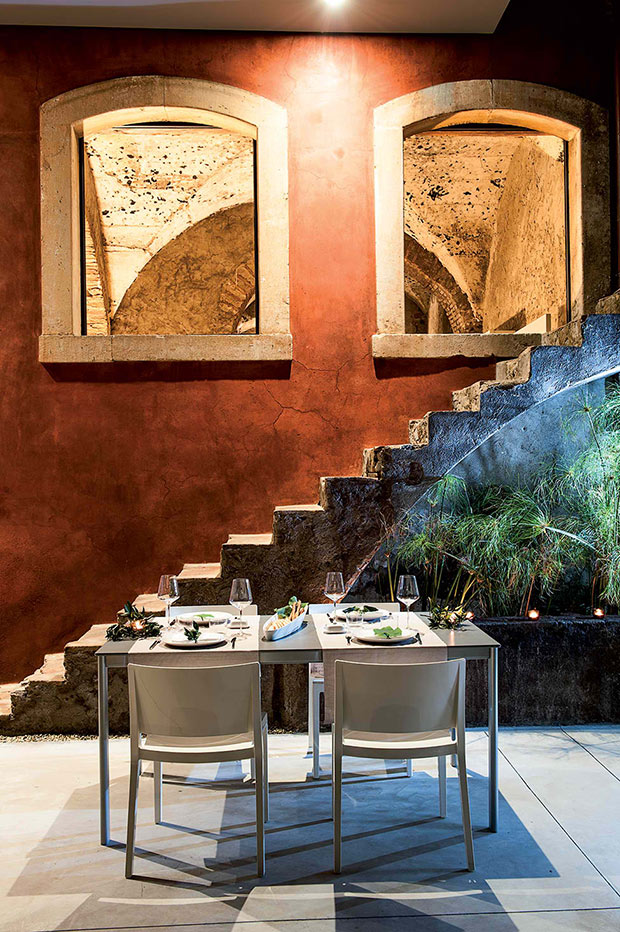 The other stair which we saw in the previous images had that arc under it but this one has a larger arc which contains some plants.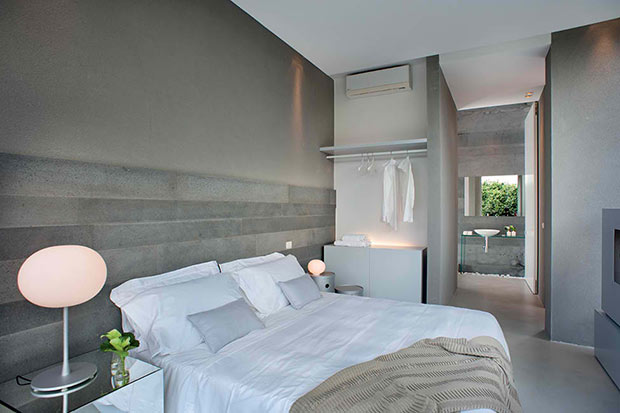 If you loved the dining area and the lounge areas, you will like the bedrooms too. Shown here is the interior of the bedroom that is enclosed in glass walls.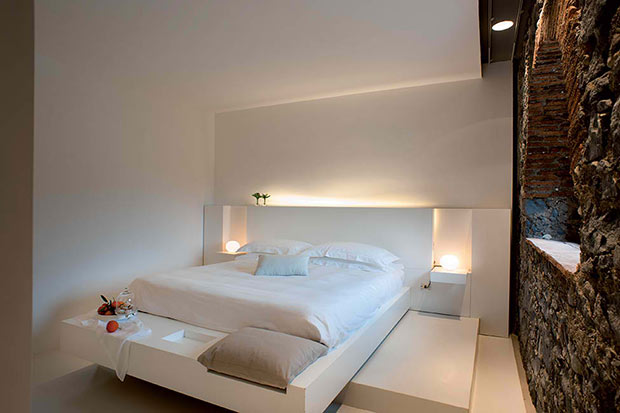 Another bedroom with a white interior and a stone wall on the other side. This bedroom sure reflects a combination of modern design and history.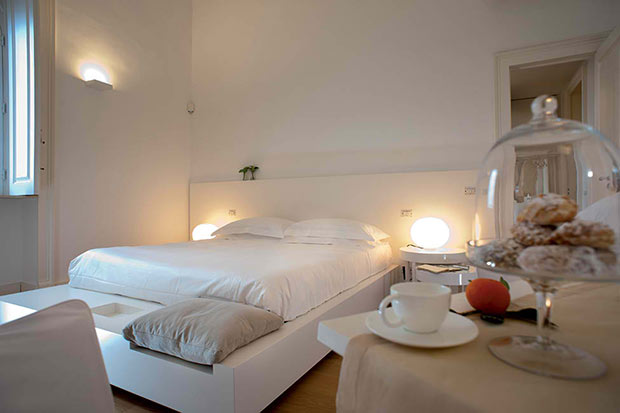 Another bedroom in white with dramatic lightings brought by the round side table lamps.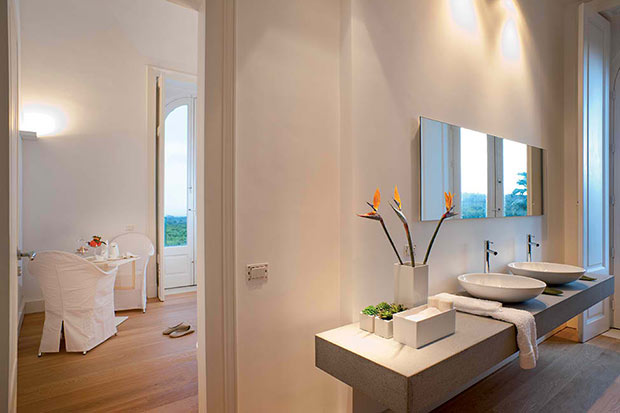 The powder room has gray modern colors in it. We like it that some plants were added to the area.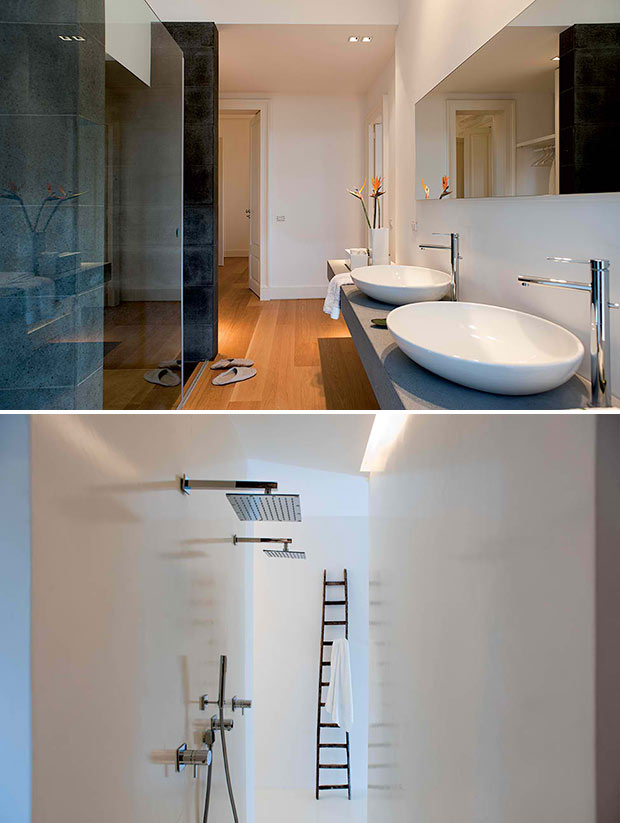 Another look at the powder room and the bathroom. It has a clean modern design in it.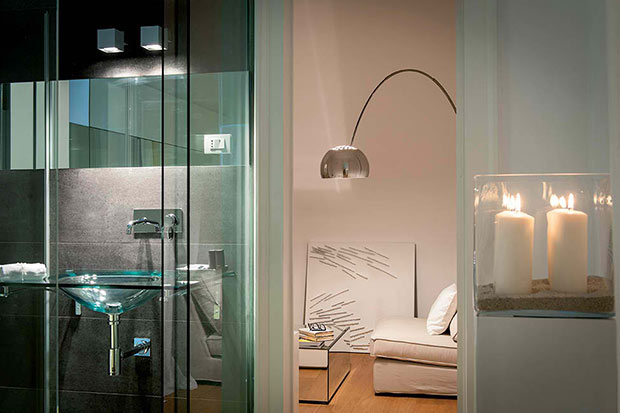 This is another bathroom at the Zash Country Boutique Hotel with glass enclosures and dramatic candle lights.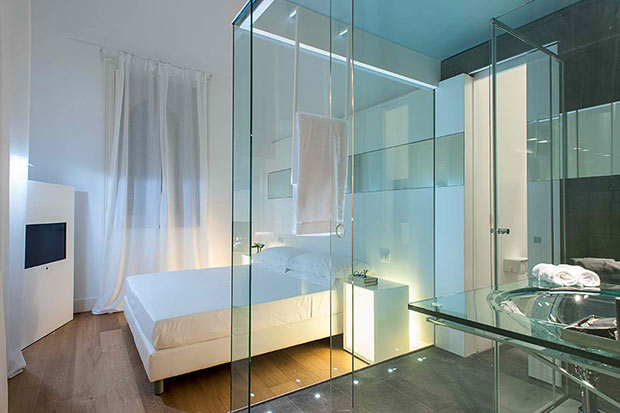 You can see how gorgeous the bathroom looks in this white bedroom. It is indeed luxurious!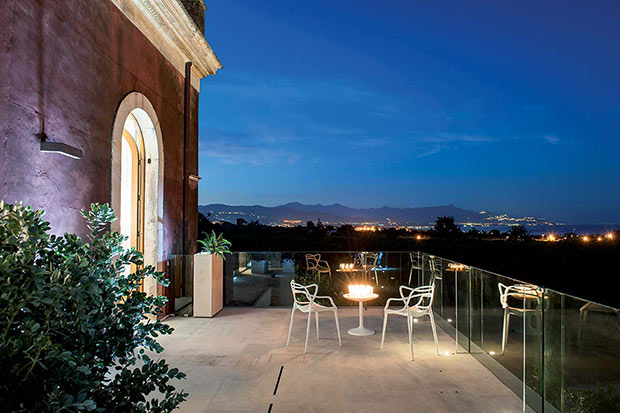 A modern terrace was added to the hotel which we can see from the exterior using glass railings.
It is really amazing how the modern design was combined with the historical fragments of the structure. Antonio Iraci did the restoration of the project which resulted into a hotel where anyone can set his spirit free and just enjoy life.
We'd love to explore a hotel like this because you aren't just there to unwind and rest but you will also get an ounce of history. The Zash Country Boutique Hotel is one of a kind with an interesting approach to interior design.
It really is worth checking!